Steve Jobs passes at 56
There are certain times when you feel like someones passing will affect us all.
When jobs stepped down from Apple I felt sad that this person who was so passionate about making sure the devices that we all use was no longer going to be the steward of devices that I love. It is incredible how many people were moved by the passing of one man... one stranger.
I am very concerned about the company and the products in the next five years. Apple is Steve Jobs.
There has been much written about the man. Here are a few stories that I would hope that everyone would watch/listen/read. It is inspiring and makes you feel that you can be better.
Vic Gundotra Icon Story
Commencement Address at Stanford from 2005
GUI discoverage (Triumph of the Nerds)
Think Different ad with Jobs as narrator
All Things D with Bill Gates and Steve Jobs
The first is a great story that demonstrates how passionate that Steve Jobs was with regard to every detail of the Apple products.
1) Via:http://www.macrumors.com/2011/08/25/steve-jobs-called-googles-vic-gundotra-on-a-sunday-about-this-icon/
Steve Jobs Called Google's Vic Gundotra on a Sunday About this Icon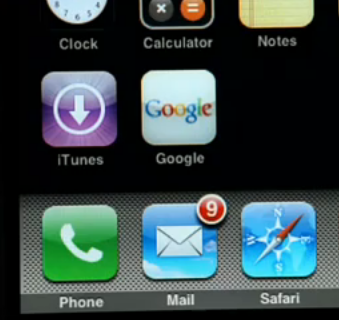 With the news of Steve Jobs'
resignation as CEO
, several reaction pieces and stories have been circulating. One popular one is from Google's Vic Gundotra who
posts an anecdote
about Steve Jobs urgently calling him on a Sunday in January, 2008.
I laughed nervously. After all, while it was customary for Steve to call during the week upset about something, it was unusual for him to call me on Sunday and ask me to call his home. I wondered what was so important?
"So Vic, we have an urgent issue, one that I need addressed right away. I've already assigned someone from my team to help you, and I hope you can fix this tomorrow" said Steve. "I've been looking at the Google logo on the iPhone and I'm not happy with the icon. The second O in Google doesn't have the right yellow gradient. It's just wrong and I'm going to have Greg fix it tomorrow. Is that okay with you?"
The story was complimentary to Jobs, and Gundotra pointed out Jobs' attention to detail as a positive trait for a CEO:

But in the end, when I think about leadership, passion and attention to detail, I think back to the call I received from Steve Jobs on a Sunday morning in January. It was a lesson I'll never forget. CEOs should care about details. Even shades of yellow. On a Sunday.
Based on the date given, we determined that this was for Apple's 2008 Macworld San Francisco keynote speech which was delivered a week later by Steve Jobs. Jobs introduced webclips and custom home screen icons for the iPhone during that keynote. This was before the App Store was launched. The Google icon in question is pictured
---
The second item is the commencement address at Stanford University that Steve Jobs gave in 2005. This was an inspirational speech that probably made me think about choices in life weeks after watching. The impact when watching was there, but in the weeks that followed it came back to me again and again.
---
The following is Steve Jobs discussing the discoverage of the Graphical User Interface (GUI). Stolen from Xerox in 1979. Not really stolen... the company let them have it. As Steve Jobs put it: "Xerox could have ruled the industry, but they were just a bunch of copier heads."
---
The following video is the ad campaign that was launched after Steve Jobs returned to Apple. It is moving and makes you realize what visionaries certain people are. I am certain that Steve Jobs can now be added to this video.
---
The final video is one that displays the friendly rivalry that Bill Gates and Steve Jobs had. I only wish that our politicians could get along so well.
Steve Jobs will be missed as a steward of innovation and a man who was passionate about making things "insanely great". All that was written above and we have not even mentioned the impact that Pixar has had on digital movie making and entertainment.